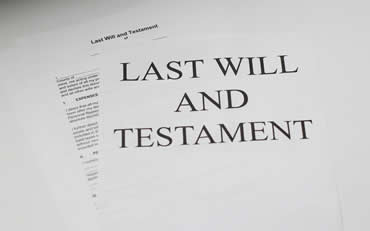 Getting your affairs in order does not have to be a hassle. You just have to make the call to our office. Ms. Thomas will guide you through the process of creating your last will and testament, a durable power of attorney, and an advance medical directive.
Last Will and Testament
A WILL is one of the most important legal documents to have. It is the legal declaration of a person's intentions and desires that he or she directs to be carried out after his or her death. By making a will you can specify how you want your property distributed. You can name a personal representative who has the responsibility to collect assets, pay bills, and distribute your estate. Do you have minor children? If you have minor children, you can designate a guardian of these children in the event of your death or your spouse's death.
The Law Offices of Debra A. Thomas, P.C. will help guide you through the journey, taking into consideration your wishes and giving any recommendations should you have questions or concerns. We know it can be a difficult process, but it can also give you peace of mind knowing that your wishes will be carried out.
Advance Medical Directive
An ADVANCE MEDICAL DIRECTIVE becomes active when you or someone you care about is no longer able to make health-care decisions or becomes mentally incapacitated. Common scenarios where it is important to have a health care agent.
COVID-19 diagnosis (Sudden diagnosis)
Dementia
Strokes
Coma
Critical medical illnesses affecting mental capacity
College Students away from home (you will not have access over 18 years of age)
Power of Attorney
A POWER OF ATTORNEY will allow you to designate someone you trust to make important financial decisions and conduct business for you should you be incapable of making them yourself. Many wait until too late. Once a loved one is mentally unable to make decisions or conduct business, it is too late for this option. It will cost you thousands of dollars for a guardianship where the court will decide who makes decisions for you.
It could be as simple as paying a bill, extending a lease, paying a mortgage, etc.This document is a must!
Probate Process
We understand that it is difficult to grieve a loss and take care of creditors, tax payments, funeral costs of a loved one. Our expert team will walk you through the probate process and help you with the administration of the estate. We can provide Letters of Administration and work with the Register of Wills.
The Probate process should be initiated as soon as possible to avoid missing tax deadlines and other similar issues. The Law Offices of Debra A. Thomas can provide you with the tools and expertise you need throughout the process until all assets are distributed. Give us a call at 410-377-8260 or use the Contact Us on the website for more information.